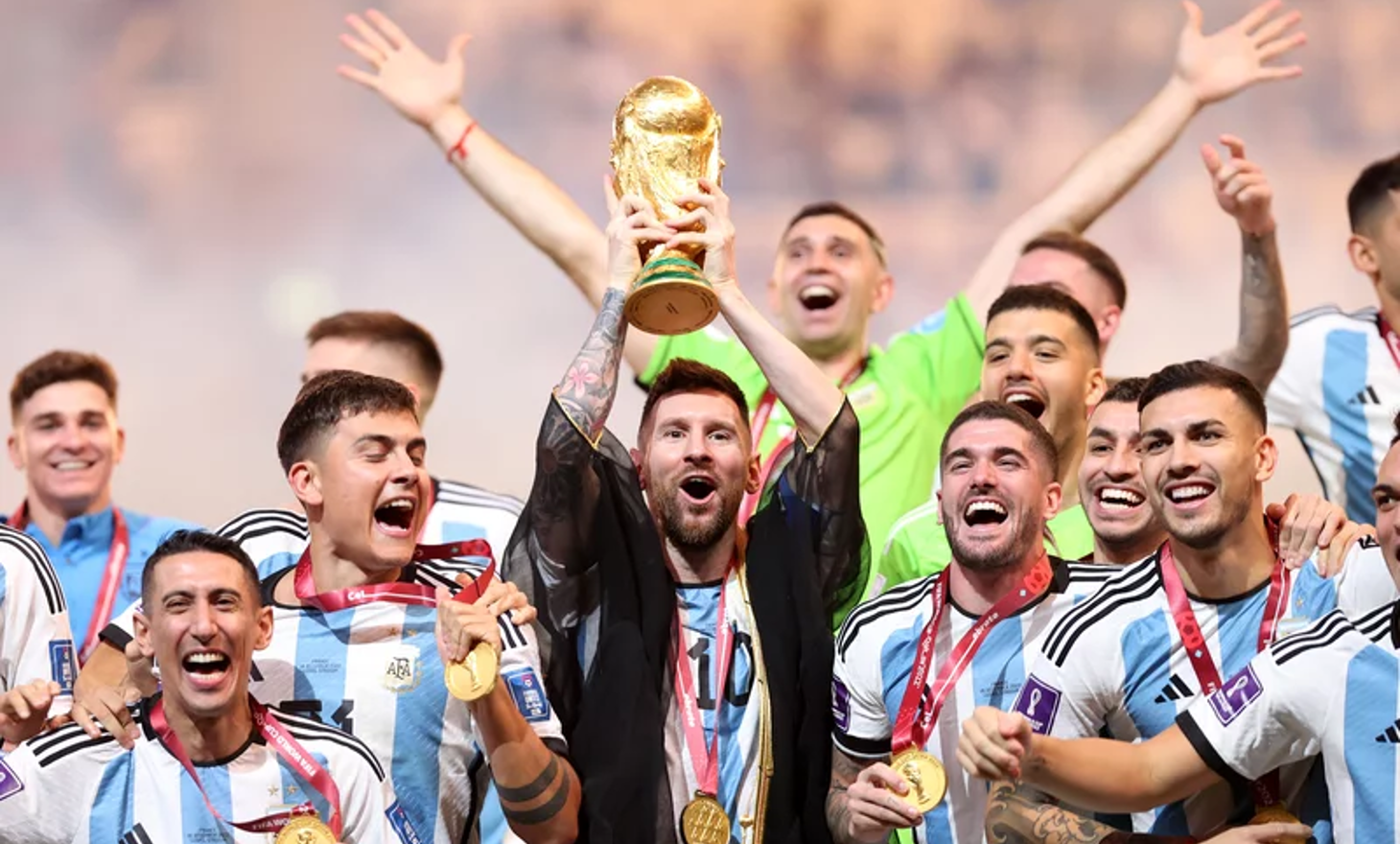 After crunching numbers and running pivot tables galore, we're excited to bring you our annual review of all the soccer that was available for the viewing pleasure of U.S. fans in 2022.
As has been standard since we began our reviews in 2015, we look exclusively at TV broadcasts (linear, cable, satellite, non-local). Why? Simply put, there's almost too much available to watch on streaming platforms – certainly a good problem to have if you're a fan.
Without further adieu, let's dive in!
Streaming takeover? Not so fast!
Like the rest of the entertainment world, the soccer industry has seen many of its properties move toward streaming platforms. For example, the number of Premier League television broadcasts in recent years has decreased as more games are given a home on NBCUniversal's streaming platform, Peacock. Similarly, Serie A can most often be found on Paramount+. La Liga and the Bundesliga on ESPN+. You get the idea.
While this trend isn't going anywhere – look no further than the MLS and Apple TV+ partnership – TV viewing options remained strong in 2022. In fact, based on our daily tracking, there was only a 6% decrease year-over-year in total broadcasts.
In 2022 there were 32 different networks that featured live soccer broadcasts. Among the networks, TUDN, TelevisaUnivision's sports programming division, featured over 600 games – the most of any network.
There were also 89 different competitions featured throughout 2022, a 13% increase from 2021. The three most-featured competitions were Liga MX, Ligue 1, and women's college soccer. Speaking of women's soccer, 21 (24%) of the competitions broadcast in 2022 were women's soccer – an increase of 91% from the previous year.
The year also featured nearly a thousand teams, up 23% from 2021. Given Liga MX was the most-featured league, it should come as little surprise that 9-of-10 most-featured teams were Mexican. The one exception? The Messi, Neymar, and Mbappe-led Parisian club, Paris Saint-Germain.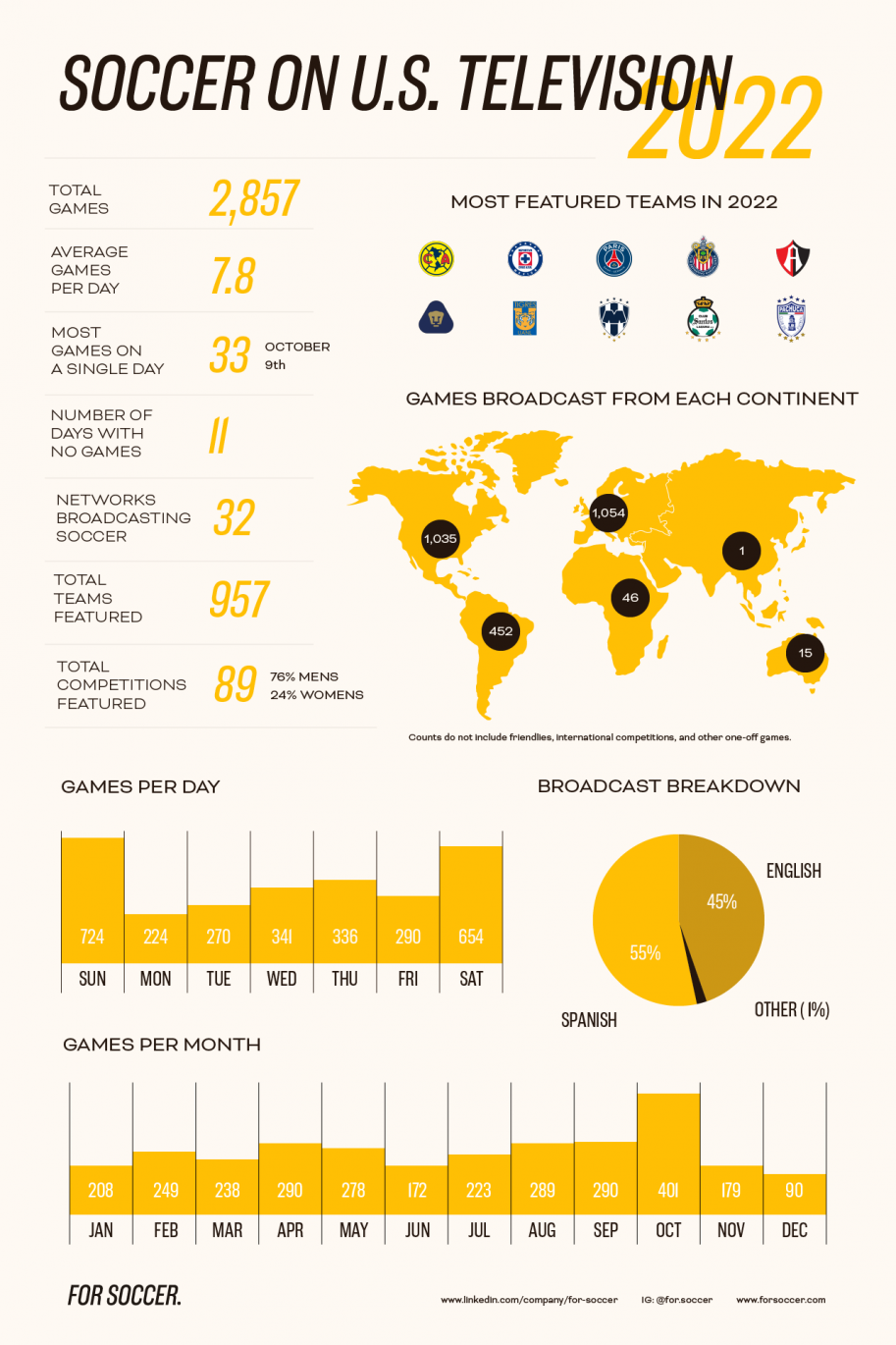 Stepping back from the individual competitions briefly, it's interesting to note how different the Games Per Month insights are relative to 2021. In November and December of 2022 there were almost one hundred fewer games. There's a reason why and it's fairly obvious.
The story of the year that was isn't complete without mentioning the 2022 FIFA Men's World Cup, broadcast on FOX Sports (English-language) and Telemundo (Spanish-language). The shift in tournament timeframe away from the traditional summer months wreaked havoc on domestic league schedules with most leagues around the world putting a pause on festivities during November and December or starting and ending the season earlier like MLS. This led to more games being squeezed in on the front end (i.e. October) or back end (stay tuned for 2023 recap) of the tournament.
Despite this shift, there were still only 11 days – yes, 11 days – that didn't feature a single TV broadcast of soccer from somewhere in the world. If you're looking for one takeaway from our recap, this might be the one.
Soccer on TV in 2023 – what's in store?
Traditional television broadcasts (linear, cable, satellite) aren't going anywhere in 2023, but there will undoubtedly be changes as more traditional broadcasts move to streaming platforms.
Nowhere is that more evident than with domestic soccer (MLS and U.S. Soccer); two storylines that made our list of the most-intriguing soccer marketing stories to watch in 2023. The overwhelming majority of MLS games will be moved to Apple TV+, although FOX / FS1 will broadcast a total of 34 regular-season games (15 of which will be on network FOX) and select playoff games, including MLS Cup.
Meanwhile, the U.S. Men's and Women's National Teams also have a new home. If you've watched either team play already in 2023, you're aware of U.S. Soccer's new partnership with Warner Media. The partnership will see games featured across television (TNT) and streaming (HBO Max), but the Warner Media umbrella opens the federation up to other potential outlets like TBS, CNN, Cartoon Network, Bleacher Report, etc.
2023 will also feature the first-ever 32-team FIFA Women's World Cup, hosted by Australia and New Zealand. FOX Sports and Telemundo will broadcast the tournament and we're excited to see how both networks bring the sights and sounds of the year's biggest international soccer event to the American viewing audience.
We're equally excited to see the expansion of Leagues Cup, the 47-team, World Cup-style tournament that matches Liga MX teams against MLS teams. FOX/FS1 will feature 16 games from the early tournament and Univision/UniMas/TUDN will air 21 games, including the Leagues Cup Final.
Historical Soccer on TV recaps
Want to look back through our archive of historical Soccer on U.S. TV recaps? Take a look below to see how the broadcast landscape has evolved.
---
As always, a big thank you to Live Soccer TV for the great work they do in helping make our daily data collection much easier.