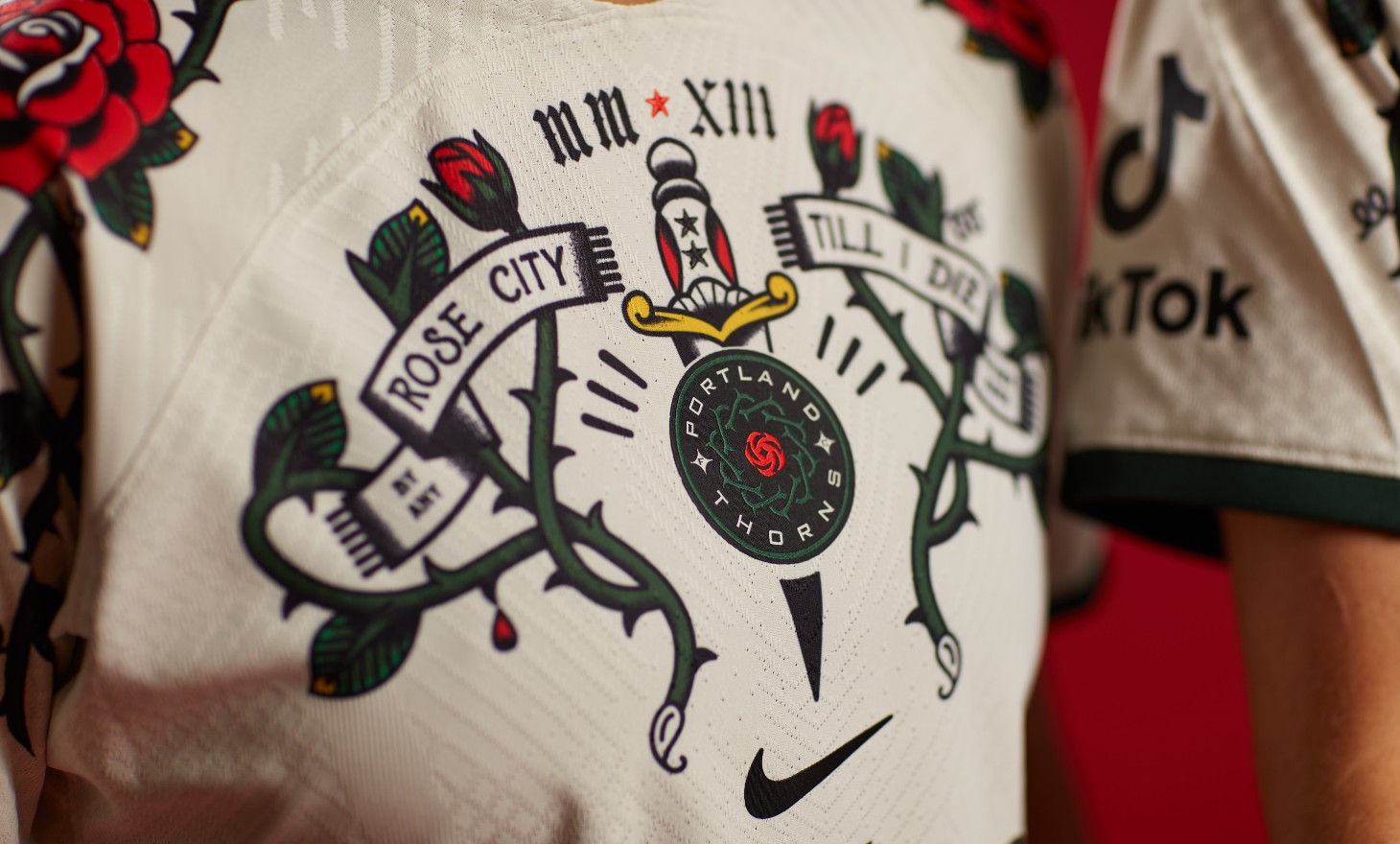 The NWSL regular season kicks off its 11th season this week, so the time has once again come for us to get familiar with the brands seeking to leverage the league and its teams to reach fans locally, regionally, nationally, and beyond.
According to Sportico and NWSL commissioner Jessica Berman, sponsorships were up 87% last year. We expect more of the same in 2023 as the league, its teams, and its players look toward this summer's FIFA Women's World Cup.
This season, the NWSL kicked off its WE PLAY HERE campaign: a "season-long, player-first initiative" to illustrate the league's world-class level of "competition, rivalries and matchups, and a new superstars making their debut, all with the added anticipation of this summer's World Cup quickly approaching."
The campaign launched with the league's ad campaign narrated by Gotham FC forward Midge Purce. Highlighting the league's diverse fanbase, the spot was also dubbed in Spanish and Portuguese, with narration from Houston forward María Sánchez and Kansas City forward Debinha. The campaign will also feature digital and social, advertising, paid media and partner support from the league broadcast partner CBS.
NWSL Team Sponsors: Front & Back of Jersey
Again in 2023, healthcare and health and wellness partners lead the way. Fifty percent of the league's teams are propelled by front-of-shirt sponsors representing hospital networks, the medical industry, or pharmacy storefronts. That's not including the back-of-shirt sponsor for the OL Reign, which is also in the healthcare industry.
Outside of the runaway industry leaders in healthcare, the remaining 50 percent of NWSL jersey sponsorships range from the eat-out or eat-in duo for Angel City (food ordering mobile app DoorDash and grocery store Sprouts) to banking and blockchain (Chicago and NJ/NY Gotham, respectively) to home appliances (Louisville and GE) and aesthetics (NC Courage) and community activism/philanthropy (OL Reign).
Only two of the 12 clubs, or 16 percent, have secured both front- and back-of-jersey partners: Angel City offers the aforementioned DoorDash and Sprouts Farmers Market; while OL Reign showcases the Black Future Co-op Fund on the front and Multicare on the back.
| Team | Front of Jersey | Industry | Back of Jersey | Industry |
| --- | --- | --- | --- | --- |
| Angel City FC | DoorDash | Online Food Ordering | Sprouts Farmers Market | Consumer Products |
| Chicago Red Stars | CIBC | Financial Services | | |
| Houston Dash | MD Cancer Center | Health care | | |
| Kansas City Current | Saint Luke's Health System | Health care | | |
| NJ/NY Gotham FC | Algorand | Blockchain | | |
| North Carolina Courage | Merz Aesthetics | Consumer Products | | |
| OL Reign | Black Future Co-op Fund | Philanthropy | MultiCare | Health care |
| Orlando Pride | Orlando Health | Health care | | |
| Portland Thorns FC | Providence Health | Health care | | |
| Racing Louisville FC | GE Appliances | Consumer Products | | |
| San Diego Wave | Kaiser Permanente | Health care | | |
| Washington Spirit | CVS Health | Health & Wellness | | |
NWSL Team Sponsors: Sleeves
Split right down the middle, half of the league's teams include sleeve sponsors beyond the league-wide partnership with Ally and the financial services sector.
Announced in 2021 to appear on all club sleeves as "a symbol of their commitment to every player who wears a kit," Ally has been one of the league's most steadfast supporters and partners.
On the other sleeve, the automotive space leads the way — but just barely. The two clubs and partners include CarMax and Gotham FC and Louisville with Toyota, while Portland (TikTok / social media), San Diego (Plinqit / fin-tech), Angel City (Birdies / consumer products), and Kansas City (Blue Cross Blue Shield KC / healthcare) round out the sponsored-sleeves conglomerate.
| Team | Sleeve (Left) | Industry | Sleeve (Right) | Industry |
| --- | --- | --- | --- | --- |
| Angel City FC | Ally | Financial Services | Birdies | Consumer Products |
| Chicago Red Stars | Ally | Financial Services | | |
| Houston Dash | Ally | Financial Services | | |
| Kansas City Current | Ally | Financial Services | Blue Cross Blue Shield KC | Health care |
| NJ/NY Gotham FC | Ally | Financial Services | CarMax | Automotive |
| North Carolina Courage | Ally | Financial Services | | |
| OL Reign | Ally | Financial Services | | |
| Orlando Pride | Ally | Financial Services | | |
| Portland Thorns FC | Ally | Financial Services | TikTok | Social Media |
| Racing Louisville FC | Ally | Financial Services | Toyota | Automotive |
| San Diego Wave | Ally | Financial Services | Plinqit | Financial Technology |
| Washington Spirit | Ally | Financial Services | | |