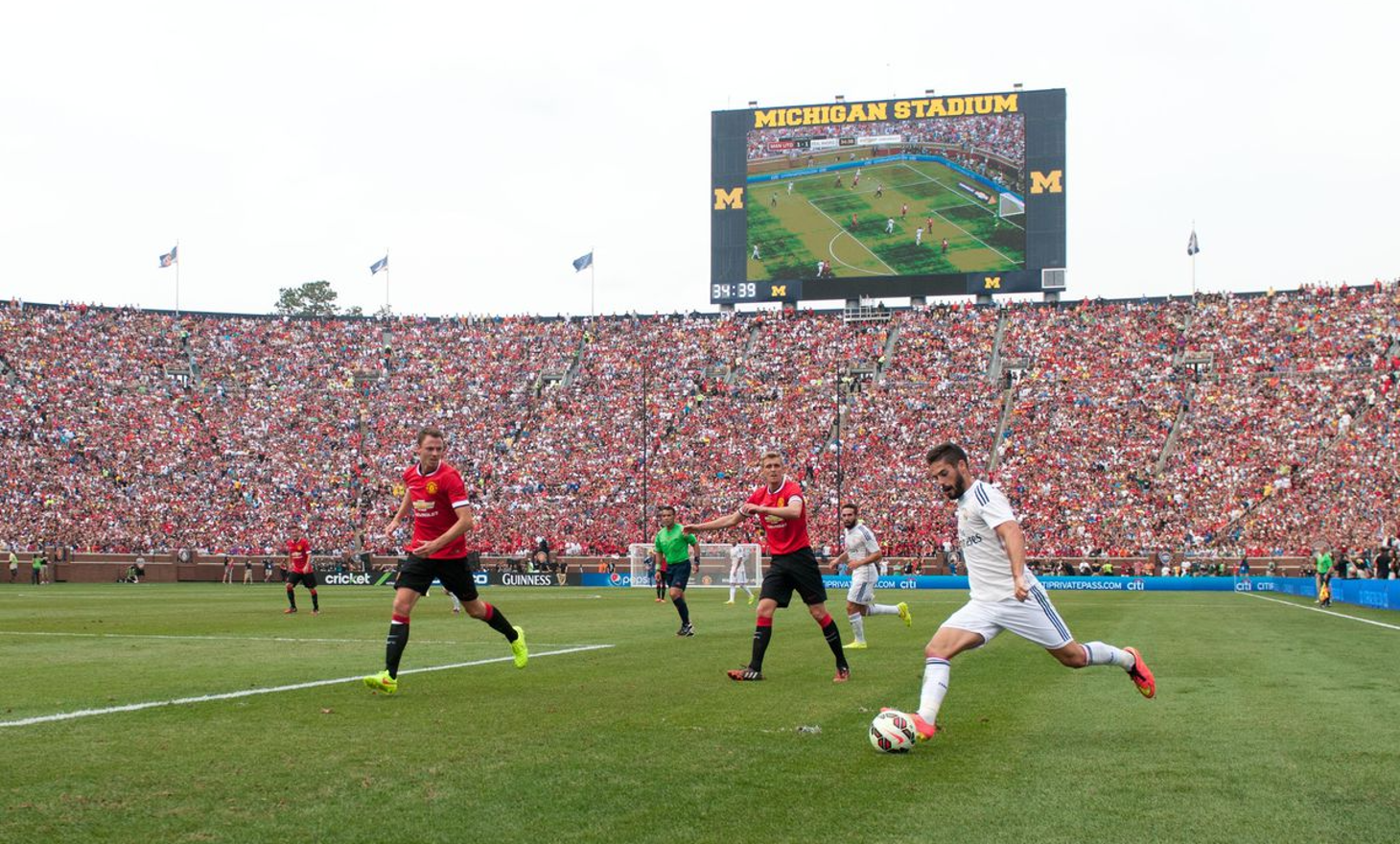 As soccer continues its upward trajectory in this country, we're showcasing soccer's impact spanning multiple decades by assembling a list of the most-attended soccer games in U.S. history. There's a long history of big-time soccer events drawing big-time crowds in this country and the locations and events you'd expect may not be as high in the list as you think.
Did you know the stadium with the highest all-time attendance for a soccer game in the U.S. is Michigan Stadium on the University of Michigan's campus in Ann Arbor? Did you know the stadium also holds two other top five soccer attendance records? What about the 1984 Olympics in Los Angeles having a top three attendance?
Which venue features most among the top 20? The Rose Bowl, most famous for hosting college football, has been a mainstay in soccer for the better part of four decades and features 15 of the most-attended games in U.S. history.
From the 1994 World Cup to the International Champions Cup, check out the list of the top 20 below.
No.
Event
Teams
Stadium
Attendance
1
2014 ICC
Man United vs. Real Madrid
Michigan Stadium
109.318
2
2016 ICC
Chelsea vs. Real Madrid
Michigan Stadium
105,826
3
1984 Olympics
France vs. Brazil
Rose Bowl
101,799
4
2018 ICC
Liverpool vs. Man United
Michigan Stadium
101,254
5
1984 Olympics
Yugoslavia vs. Italy
Rose Bowl
100,374
6
1984 Olympics
France vs. Yugoslavia
Rose Bowl
97,451
7
1994 World Cup
Brazil vs. Italy
Rose Bowl
94,194
8
1994 World Cup
USA vs. Romania
Rose Bowl
93,869
9
2015 Gold Cup
USA vs. Mexico
Rose Bowl
93,723
10
1994 World Cup
USA vs. Colombia
Rose Bowl
93,689
11
2011 Gold Cup
USA vs. Mexico
Rose Bowl
93,420
12
2015 ICC
FC Barcelona vs. LA Galaxy
Rose Bowl
93,226
13
1994 World Cup
Cameroon vs. Sweden
Rose Bowl
93,194
14
2009 Friendly
FC Barcelona vs. LA Galaxy
Rose Bowl
93,137
15
2017 ICC
Man City vs. Real Madrid
LA Memorial Coliseum
92,516
16
2006 MLS/Friendly
Revolution vs. Chivas USA
FC Barcelona vs. Chivas
LA Memorial Coliseum
92,516
17
1996 MLS/Friendly
USA vs. Mexico
Tampa Mutiny vs. LA Galaxy
Rose Bowl
92,216
18
1994 World Cup
Sweden vs. Brazil
Rose Bowl
91,856
19
1994 World Cup
Colombia vs. Romania
Rose Bowl
91,586
20
1999 Friendly
Argentina vs. Mexico
LA Memorial Coliseum
91,585