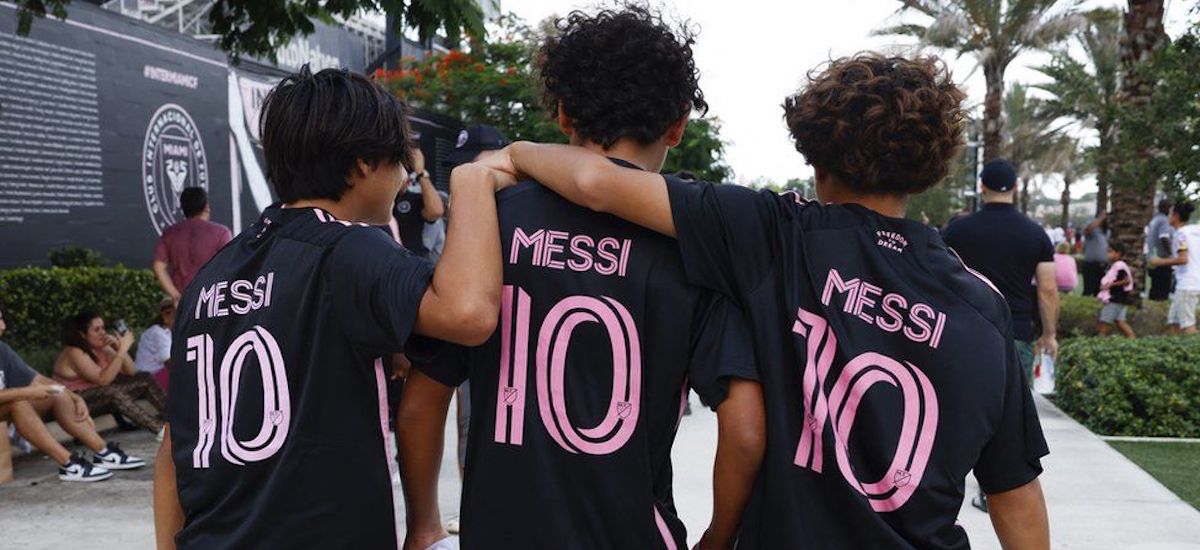 Lionel Messi is (one of) the greatest soccer players of all time, no doubt about that.
He has captured the imagination of fans across the world with his exceptional skills, mesmerizing dribbles, and astonishing goal-scoring abilities. For more than two decades, Messi's career has been closely tied to Barcelona, where he became a legend, but now a new era has been formed: Inter Miami has risen to become the new home for superstar Lionel Messi — and it's been a spectacle so far.
As the tide officially turns toward the team owned by superstar David Beckham. Let's explore what this means for Inter Miami through the lens of the fan experience, club culture, and how this move transcends sports in general.
It's no secret that Lionel Messi's arrival in MLS has already added a significant boost to Inter Miami and the league as a whole. Messi's star power has already translated into a substantial increases in ticket sales, stadium attendance, and merchandise/apparel sales. It is also worth noting that Inter Miami and the league have become much more attractive when it comes down to lucrative sponsorship deals. Companies are eager to associate their brands with the world's best player, leading to increased revenue streams for the league and its clubs. Additionally, with Messi's global appeal, television ratings for MLS matches would soar, resulting in higher broadcasting rights revenue. This influx of money would provide MLS with the financial resources to invest in player development, infrastructure, and overall league growth.
His arrival not only provides an economic benefit, but it enhances the club's competitiveness and popularity on the global stage. Inter Miami has been making strides to establish itself as a competitive club in the league, and Messi's move provides a massive boost to the club's ability to compete for the MLS Cup. Inter Miami is also now an attractive destination for top-tier talent from around the world. You can already see the effects with Sergio Busquets signing, plus the swirl of rumors around players like Jordi Alba, Luis Suarez, and Sergio Ramos. The prospect of playing alongside or against Messi would be a dream come true for many players, and this would lead to an influx of high-quality international signings. Soccer fans from all corners of the globe will tune in to watch the club's matches. This increased exposure would not only benefit the league but also the individual clubs, attracting more international fans and lead to bigger brand and sponsorship deals as a whole.
Of course these might be obvious implications of Messi to Miami, but let's take a step back for a minute and look at the bigger picture. Leo's decision has a profound impact on the landscape soccer development in the United States as whole. Just think about it. The rise in popularity of the sport in the United States alone will receive a tremendous boost and potentially close the gap on sports like basketball and American football. Messi's presence alone would inspire young players and increase participation rates in youth soccer programs. Seeing their idol play in their own backyard would ignite a passion for the sport and motivate aspiring players to pursue their dreams. Exposure to a player of Messi's caliber would inspire the next generation of American and Canadian footballers, setting new standards and pushing them to reach greater heights. Additionally, Messi's influence will enhance the coaching and development of potential of young talents. Messi's legendary status would inspire young players to dream big and consider MLS as a viable destination for their careers, popularizing soccer even further in the United States and Canada. It could lead to increased participation in youth programs, a surge in local talent development, and a broader appreciation for the sport in the region.
Ultimately, Lionel Messi's move to Inter Miami is a landmark event that will transform the American soccer landscape. The transfer elevates the club's global appeal, increases fan engagement, and enhances the team's competitive performances, while having a lasting impact on youth development and coaching. Messi's move would solidify MLS' position as a formidable soccer league and mark a significant milestone in its quest for international recognition. Quite frankly the transfer represents a game-changing moment that would leave an enduring legacy and shape the future of football in North America.