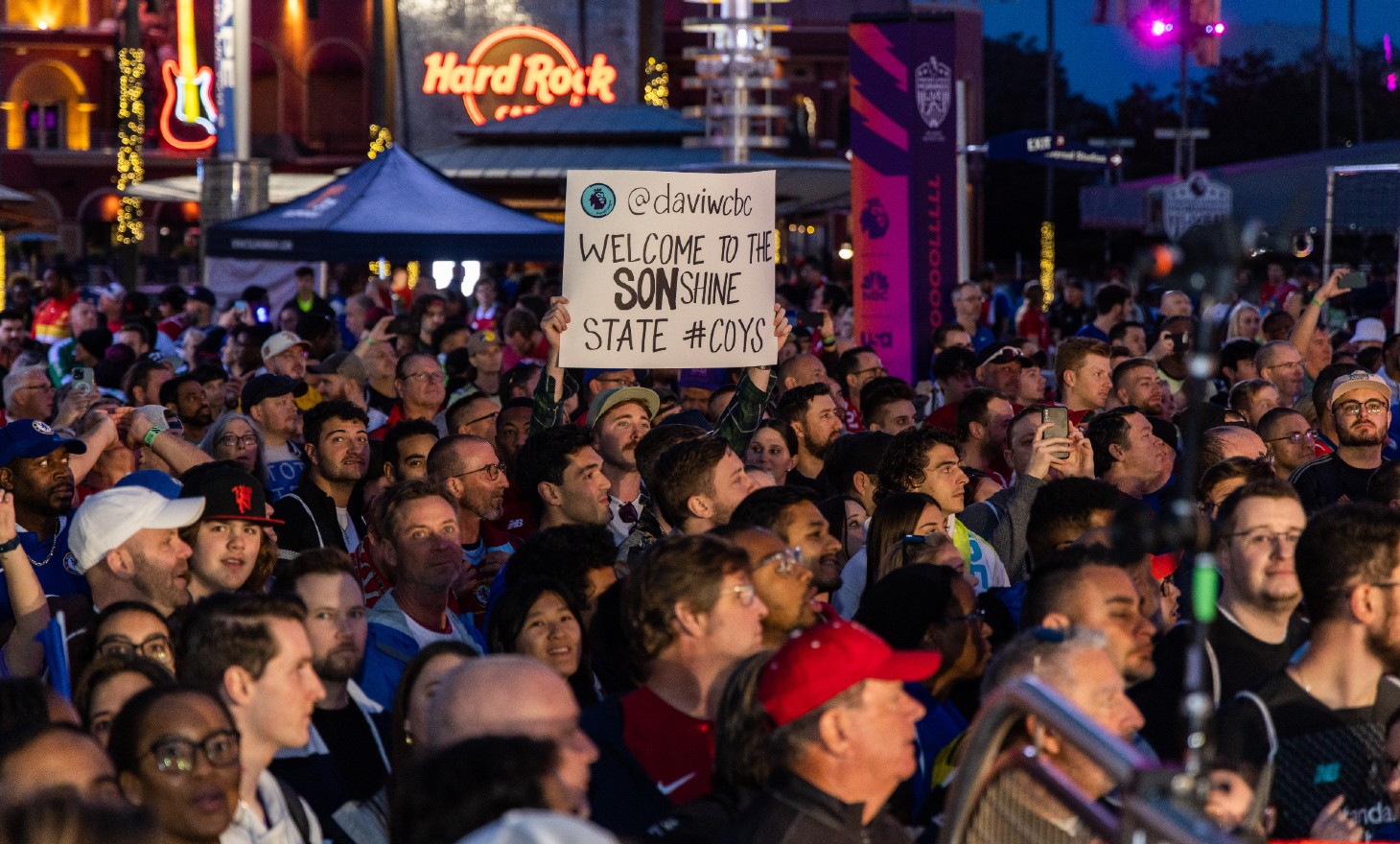 "Welcome to the SONshine state." That's the message our Premier League Sign Guy greeted fans watching the Premier League Mornings Live broadcast from Universal CityWalk in Orlando, as NBC's Rebecca Low, Tim Howard, and the two Robbies kicked off another record-setting January 21-22 weekend.
As you may remember, the Philadelphia fan fest in October of 2022 became the highest-attended fan fest in Premier League Mornings Live history. A different record was broken during the Orlando fan fest weekend – Sunday's Arsenal-Manchester United match became the most-watched Premier League match ever in the U.S.
A record-setting at-home audience of 1.92 million were joined by 10,000 fans in Orlando throughout the weekend with all eyes on that dramatic finish as Arsenal's Eddie Nketiah put the game-winner in the back of the net in the 90th minute. Arsenal fans went wild, United fans were devastated, and Premier League fans in general got to be part of history as they watched an epic match.
The For Soccer team once again led content development, production, and on-the-ground coverage across the weekend's activities, marking the ninth (!!) fan fest for our team. Tons of preparation and collaboration goes into bringing these events to life and we're thrilled to partner alongside the Premier League and NBC to share the experience with the rest of America. Check out some of the highlights below.
Golden Ticket Giveaways
Fans across Orlando were given a chance to receive a pair of "golden tickets" to the event, which gave them fast-pass access to cut the long line of eager PL fans before the sun came up. The tickets also included food and drink vouchers, as well as a meet and greet with Premier League legends, Alan Shearer and Gary Cahill.
High-Speed Interview
Before the on-field action kicked off, @PLinUSA digital host Brandon London invited Chelsea legend Gary Cahill to join him for an interview… with a twist. They'd be doing it at 70 MPH on the Jurassic World VelociCoaster at Universal Studios. Cahill was cool as a cucumber. As for Brandon, well, take a look for yourself.
Retiring to the Course
What else are you supposed to do with retired PL players in Florida than hit the greens for some good old-fashioned fun on the golf course?
Knowing PGA pro golfer Billy Horschel was making the drive to Orlando to catch Saturday's West Ham match at the fan fest with Carlton Cole, Shearer and Cahill took to the course to show off their golf skills. What they didn't know was we'd be filming them and having Horschel rate their abilities. Safe to say we won't see either of them on the PGA Tour any time soon.
Brandon wanted to see the two legends go head-to-head, but with a twist: they had to pick one club and had to use it the entire hole. As you can imagine, great banter ensued.
PL Sign Guy
Fans at home watching the broadcast often get FOMO when the fan fest isn't in their city. We came up with a solution to change that and make them feel part of the crowd. Enter PL Sign Guy.
Sign guy scoured @PLinUSA social channels for the best sign submissions from fans across the country, got into the mix of the crowd, and made sure fans at home could see their signs on-air behind the NBC crew.
The fans definitely brought their A-game.
Fans Choose Their Own Adventure
It's not so fun to sit at home and see fun things happening that you can't be part of, so Brandon spent his time on the ground trying to change that. Across IG stories, Brandon was focused on everyone on getting everyone on their couches involved with everything from trivia to giveaways and even letting fans pick the tattoo he got (ok, we'll admit it… it's fake).
Mascots Hit the Globe
Not unlike many other tourists visiting Universal Studios and CityWalk, the Premier League mascots that made the journey from across the pond wanted their own iconic photo in front of the Universal globe. But getting there was a quite the adventure in itself.
Check out the sights and sounds of all things Premier League Mornings Live from Orlando.
Now we have to ask ourselves… what record will we break next time and where will it be broken?