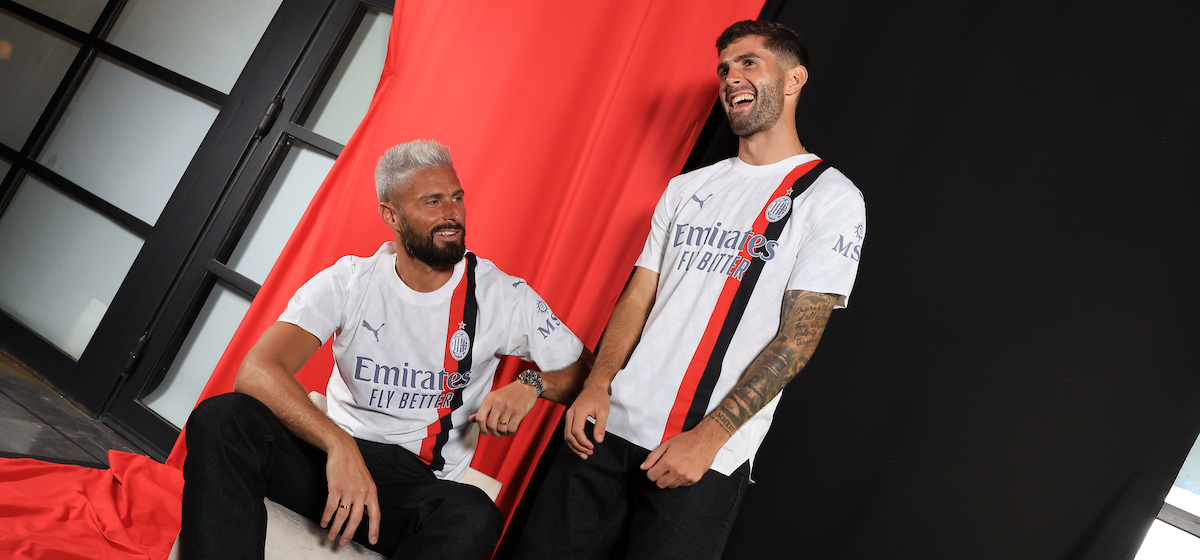 While the biggest and most impactful player movements from the summer include the European exits of Cristiano Ronaldo to Saudi Arabia and Lionel Messi to Major League Soccer, it was the various Americans abroad that caught our attention.
The brightest American stars were on the move over the summer — some with loans, others as permanent transfers. National-teamers became club-side teammates (looking at you Christian Pulisic and Yunus Musah, Ricardo Pepi and Malik Tillman and Sergiño Dest at PSV Eindhoven).
While the on-field performances are still early, we want to look at the potential various marketing impacts produced from these various moves — from shirt sales to viewership to social media and beyond.
But first, here is our list of the biggest USMNTers that made moves over the summer and some basic info on each:
| NAME (Alphabetical) | AGE | POSITION | NEW CLUB | SHIRT SPONSOR | OLD CLUB |
| --- | --- | --- | --- | --- | --- |
| Brendan Aaronson | 22 | Midfielder | Union Berlin (GER) | Paramount+ | Leeds |
| Tyler Adams | 24 | Midfielder | Bournemouth (ENG) | Dafabet | Leeds |
| Folarin Balogun | 22 | Forward | Monaco (FRA) | eToro | Stade de Reims (loan from Arsenal) |
| Sergiño Dest | 22 | Defender | PSV Eindhoven (NED) | High Tech Campus | FC Barcelona |
| Ethan Horvath | 28 | Goalkeeper | Nottingham Forest (ENG) | Kaiyun | Luton Town (loan) |
| Weston McKennie | 24 | Midfielder | Juventus | Jeep | Leeds (loan) |
| Yunas Musah | 20 | Midfielder | AC Milan | Emirates Air | Valencia |
| Ricardo Pepi | 20 | Forward | PSV Eindhoven (NED) | High Tech Campus | Groningen (loan from Augsburg) |
| Christian Pulisic | 24 | Midfielder | AC Milan (ITA) | Emirates Air | Chelsea FC |
| Zack Steffen | 28 | Goalkeeper | Manchester City (ENG) | Etihad Airways | Middlesborough (loan) |
| Malik Tillman | 21 | Defender | PSV Eindhoven (NED) | High Tech Campus | Rangers (loan from Bayern Munich) |
| Auston Trusty | 24 | Defender | Sheffield United (ENG) | CFI | Birmingham City (loan from Arsenal) |
| Matt Turner | 29 | Goalkeeper | Nottingham Forest (ENG) | Kaiyun | Arsenal |
| Tim Weah | 23 | Forward | Juventus (ITA) | Jeep | Lille |
Marketing Impact in the USA
The club changes of American talent into European leagues has the potential to revolutionize the marketing landscape of soccer in the United States. Here's how:
Increased Fan Engagement + Exposure to New Leagues, Clubs, etc.: With American moves like Pulisic from England to Italy and Weah from France to Italy, interest in European soccer is already surging, and younger fans are devoted to following their favorite players to new leagues and teams. According to For Soccer's 2022-23 "United States of Soccer Fan Census," Gen Z fans are more likely to follow their favorite players' journeys closely, watching matches, and engaging with content on social media platforms, no matter where they play.
Television Ratings and Streaming: Television networks and streaming services will spike in viewership of the various soccer leagues when American players are in action each weekend. This increased viewership translates into higher revenue, leading to more extensive coverage of the sport (looking at you CBS Sports Golazo Network).
Merchandise Sales: The moves made by popular American players in Europe boost sales of jerseys and merchandise in the USA. Fans will want to represent their favorite players by purchasing club jerseys, which could lead to increased partnerships between European clubs and American retailers.
Sponsorship Deals: Having an American player involved in various larger and smaller clubs attract more lucrative sponsorship deals — thanks to the American dollar and media/marketing dominance. Brands looking to tap into the growing soccer market may be more inclined to partner with clubs that involve American players.
Expansion of Grassroots and Academies: The success of American players in Europe stands as an inspiration for young talent in the USA as they are introduced to the game through the marketing and performances of their favorite players (whether in video games or on the TV or streaming screen). This is likely to result in more involvement in youth academies, coaching, and player development, contributing to the long-term growth of the sport.
The Role of Social Media
Social media always play a pivotal role in amplifying the marketing impact of American players in Europe. Players like Christian Pulisic, Weston McKennie, and Sergiño Dest already have substantial followings, and their moves to high-profile European clubs will only increase their online presence. These players leverage their social media platforms to engage with fans, share their experiences, and promote the sport.