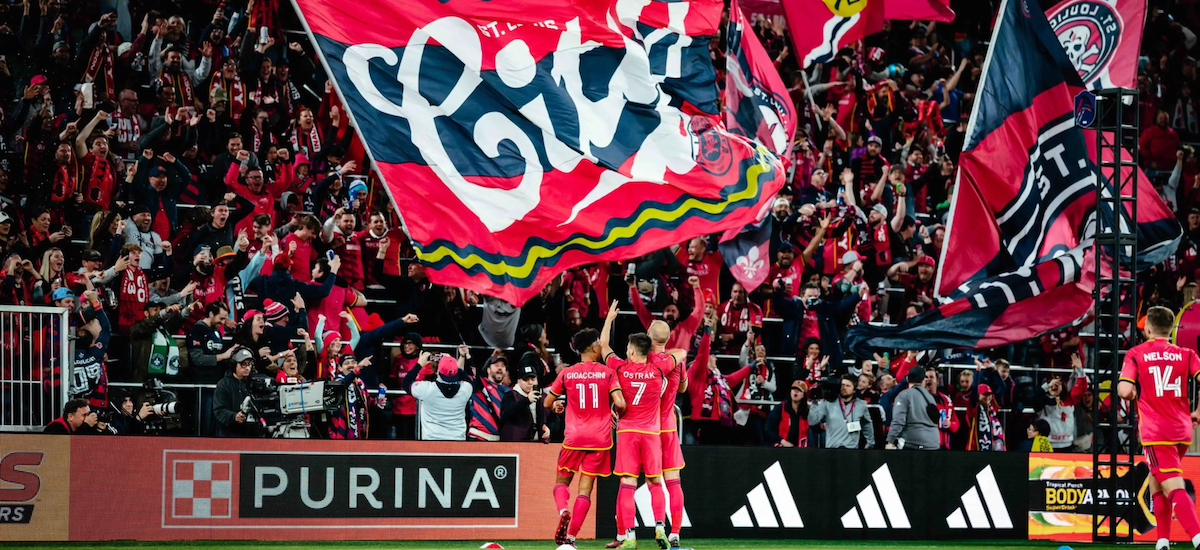 Last week, St. Louis City SC clinched a spot in the 2023 Audi MLS Cup Playoffs in their inaugural season, becoming the eighth first-year team to make the playoffs. Earlier this year, the brand new squad became the first MLS expansion team to win its first five games in franchise history and the first to win 18 points in their first eight games. With three regular season games remaining, the team can still break the record for most points in a MLS season among first-year expansion teams.
But it's off the field where we have seen the biggest impact.
The beautiful game has made an impact in a city with an already rich soccer tradition. St. Louis has given us a boatload of national team stars, past and present (looking at you Josh Sargent, Tim Ream and Becky Sauerbrunn, among others). And that fervor has already translated from the hometown hotbed to the stands with sold out crowds in nearly every match this season. City SC ranks ninth in MLS average attendance, averaging +20,000 fans per game at CityPark.
Building off the continued MLS success, St. Louis CITY SC's President and CEO Carolyne Kindle recently told the St. Louis Business Journal that "NWSL is definitely on the radar for something to invest in."
Back in February 2022, after signing a fifteen-year naming rights partnership with Centene Corporation – a Fortune 25 healthcare company headquartered in St. Louis — City SC announced that the 22,423-seat soccer-specific stadium was going to be named Centene Stadium. As part of a "long-standing commitment to the St. Louis region", the company with over 70,000 employees and +28 million members wanted to invest in a venue that would revitalize the city's downtown.
However, in October last year, Kindle announced that the partnership with Centene had to be reshaped, leaving the door open to organizations that shared their vision to further the city's growth.
Even though last month, Sarah London — Centene's CEO -– said that a portion of the funds that would have been allocated to the naming rights were shifted to health, athletics and education programs, it's not the first time that Centene Corporation changed plans or "reshapes" a deal with a MLS team: back in August 2022, just ten months after announcing a multi-year partnership with another Charlotte FC, another expansion team, the company backed out after confirming they were no longer moving its headquarters to Charlotte.
While City SC still works with Centene when it comes to community health and wellness initiatives, the team now looks forward to securing naming rights of a stadium that is ready to host the Audi MLS Cup Playoffs and that — along with its next-door training campus — brought development to the city's Downtown West by creating a new landscape for real estate developers.
Back in April, CityPark also announced the first permanent pet-friendly stadium space in Major League Soccer: The Purina Club, a place where fans can watch games with their dogs. Featuring four boxes that can accommodate four fans and two dogs, each section is equipped with water bowls, and a Purina gift bag of toys and treats for those four-legged friends.
Headquartered in St. Louis, Purina is also City SC's first founding partner and kit sponsor. The deal, which was announced back in March 2021, adds to Purina's roster of St. Louis-based partnerships. The company already has relationships with local sports teams, such as the St. Louis Cardinals and the St. Louis Blues, and also with the Missouri Valley Conference.
And when it comes to jersey sales, City SC ranked in the top five among the MLS teams for jersey sales in the first quarter of 2023. It'd be no surprise that they finish in the top 3 after their successful season ends.
A club already making history off the field as the league's first women-led ownership group, is now making a name for itself on the pitch. The future is bright for a team that is truly rooted in the community. As Dennis Moore, the team's chief revenue officer, once said: "We are St. Louis City Soccer Club. We play in the city. Train in the city. We are a part of the city. It's a part of who we are."
We can't wait to see what's next for St. Louis and soccer.