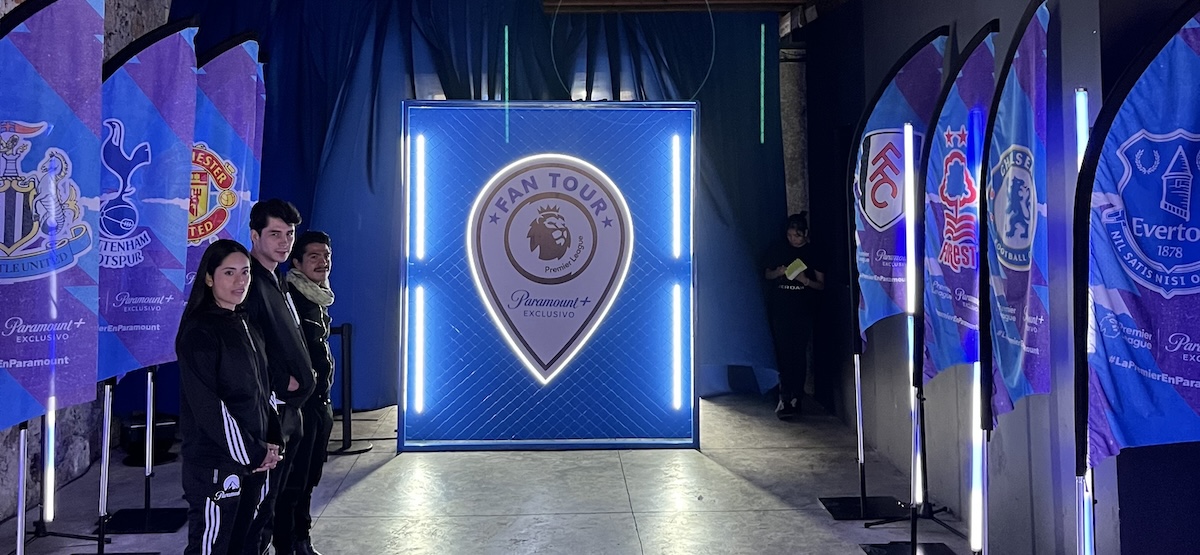 Last weekend, a four-city Premier League fan tour kicked off in Mexico as part of a series of activities that Paramount+ — the owner of the PL TV rights in Mexico and Central America — will launch in four Mexican cities in the upcoming months. 
Frontón Bucareli, in Mexico City's downtown, turned into a sea of Blue and Red when hundreds of fans gathered to watch Manchester City vs Arsenal in a cozy lounge with multiple screens. Food and drinks were available on-site, along with a photo booth, shirt customization, gaming stations, and a kids area with Nickelodeon characters like SpongeBob, Patrick, Paw Patrol, the Ninja Turtles, and more.
The enthusiasm for the Premier League is fueled by the vibrant culture and the deep-rooted passion for soccer within Mexican culture. Supporters groups from both clubs were felt at the event, spending time with fans from other Premier League teams attending the tour's grand opening.
Over the last few years, For Soccer has been involved with these sort of activations on American soil, and now in Mexico with former Premier League talents joining in during the event. This time it was Carlos Salcido's turn, a Mexican international legend that spent a season at Fulham in 2010. Salcido will attend the four different events in Mexico to engage with fans by taking pictures, signing autographs, and talking about his professional experience while playing in England.
The long-standing relationship between For Soccer, the Premier League and its broadcasters has been crucial when executing these campaigns, first in the U.S. and now in Mexico. For Soccer's strong connections with partners, stakeholders, and customers has facilitated seamless collaborations and impactful activations on both sides of the border.
It goes without saying, but the Premier League's immense influence and significance in Mexican soccer culture opens new opportunities for brands that are willing to resonate inside a country and within a demographic that really loves the beautiful game.
The remaining schedule of the 2023 Premier League Fan Tour in Mexico is available below:
Monterrey – October 21, Parque Rufino Tamayo
Guadalajara – November 12, TBD
Querétaro – December 17, TBD
For more information, please visit lapremierenparamount.com.