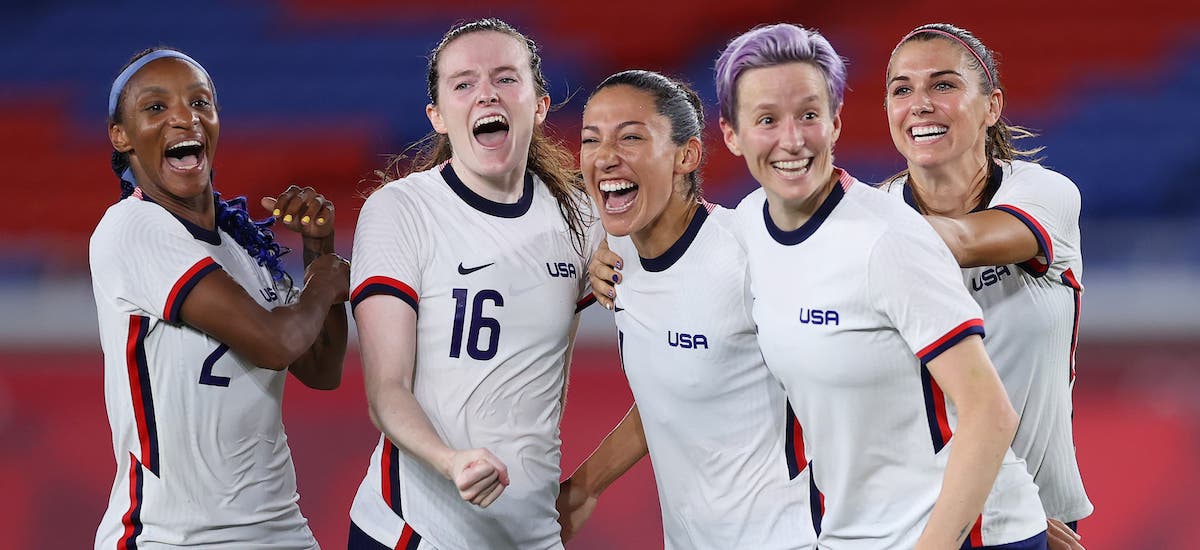 The Fourth has come and gone, and now it's time to get back to the footy. And what a month for it, headlined by the FIFA Women's World Cup in Australia and New Zealand just 15 days from today.
Stating the obvious: Women's sports across the globe — led by soccer — are a hot commodity. The growing interest by brands that want to reach the game's supporters has launched a variety of marketing strategies to enhance their visibility in the most engaging and efficient ways.
Building anticipation and excitement among fans while attempting to build off a foundation that's equal-parts Australia and New Zealand culture, star power, and FOMO. Whether it's a campaign featuring popular personalities as ambassadors or emphasizing the skill, determination, and inspiring stories that set the stage for this summer's production — showcasing the human side of the tournament connects with fans on an emotional level.
HOW IT'S LOOKING + WHAT WE'LL SEE
This summer presents a significant opportunity for brands to further amplify their support for women's sports and engage with a global audience. Sportico reports that U.S. English-language rightsholder FOX has already booked 90% of all available match-day TV advertising units, pacing the network well ahead of where it was at this time four years ago.
The advantage of network TV cannot be overstated: per Nielsen's most recent assessment of the cable universe, FS1 — which will carry 35 Women's World Cup matches — reaches 72.4 million households, whereas FOX's broadcast signal for 29 of the biggest matches is beamed to nearly 98 million homes. … On the Spanish-language front, NBCUniversal's Telemundo will counter with an even more aggressive strategy, airing 33 matches on its flagship broadcast network and 31 on the cable network Universo.


Sportico: "AS USWNT EYES THREE-PEAT, FOX WOMEN'S WORLD CUP AD SALES SOAR"
Among the top categories that have locked their places into FOX's 2023 FIFA Women's World Cup coverage are automotive, insurance, wireless and tech. Snacks have made an unprecedented run on the tourney, thanks in large part to a big dive by Frito-Lay.
Here are some potential approaches we might see:
Inclusive and diverse storytelling: Brands will focus on highlighting the diverse backgrounds, stories, and experiences of female footballers participating in the tournament. By showcasing the journeys and challenges faced by players from various cultures and regions, campaigns can foster a sense of unity, cultural appreciation, and inclusivity.
Empowerment and equality: As women's sports continue to push for equal recognition and opportunities, brands will take a strong stance on gender equality through their campaigns. They can emphasize the importance of equal pay, resources, and support for female athletes, inspiring fans and the broader community to rally behind the cause.
Leveraging technology and innovation: Brands might explore innovative ways to engage with fans, leveraging technology such as augmented reality and virtual reality to provide immersive experiences. Technologies can transport fans to the heart of the action, creating a sense of excitement and connection even for those unable to attend the matches in person.
Fan engagement and interactivity: Brands are likely to encourage fan participation and engagement through interactive campaigns. Social media will continue playing a crucial role, allowing fans to share their experiences, opinions, and support for their favorite teams and players. Brands will aim to deepen fan involvement.
Sustainability and social responsibility: The growing emphasis on environmental sustainability and social responsibility is likely to be reflected in brand campaigns. Brands will showcase their commitment to eco-friendly practices, support for local communities, and initiatives to reduce the carbon footprint associated with the tournament.
Collaboration with athletes and influencers: Brands will collaborate with prominent female footballers, influencers, and celebrities to amplify their campaign messages and increase reach. These partnerships can further enhance the visibility of the tournament and generate excitement among fans.
WHICH BRANDS WILL WE SEE?
FIFA will return many of its leading official partners that have previously shown support for women's soccer, and some new companies ahead of the 2023 FIFA Women's World Cup.
Here are the top 12 companies we are keeping an eye out for:
Adidas: Adidas' strong presence in women's soccer ranges from FIFA itself to various national teams and individual players, and have been involved in previous Women's World Cup tournaments. Adidas has been the Official Match Ball supplier for the FIFA World Cup since 1970 and has also provided uniforms for all FIFA officials, referees, player escorts, ball crew and volunteers for all FIFA-affiliated events, which Adidas also sponsors. The last extension between the two parties was announced in November 2013, with the agreement granting Adidas Official Partner, Supplier and Licensee rights for all FIFA events until 2030.
Coca-Cola: One of the longest-standing corporate partners of FIFA, with a formal association since 1974 and an official sponsorship of FIFA World Cup that began in 1978. Coca-Cola has had stadium advertising at every FIFA World Cup since 1950. Since 2006, Coca-Cola has "exclusively activated the FIFA World Cup Trophy Tour." In collaboration with The Panini Group, Coca-Cola releases digital and physical stickers for FIFA World Cup tournaments. Coca-Cola also sponsors the FIFA World Rankings for both the men's and the women's national teams.
Wanda Group: The first-ever Chinese company to partner with FIFA — staring in March 2016 — covers all FIFA-affiliated tournaments and corporate activities until the end of the 2030 men's FIFA World Cup.
Hyundai Motors + Kia: Both Hyundai Motors and Kia are automotive subsidiaries of Seoul-headquartered South Korean chaebol Hyundai Motor Group. In May 2023, it was announced that Hyundai and Kia would continue to serve as FIFA's official mobility partners until 2030, reprising their roles for major FIFA events, including the 2023 Women's World Cup and the 2023 men's World Cup.
Algorand: Promoting itself as a "green blockchain technology company," Algorand was announced as FIFA's official blockchain platform in May 2022, providing FIFA official blockchain-supported wallet solutions while also working with the governing body over developing its digital assets strategy. The deal names Algorand as an Official Sponsor of the 2023 Women's World Cup.
Calm: Calm's offering meditation, relaxation and sleep solutions, partnered with FIFA in November 2022 to make its online platform the Official Mindfulness and Meditation Product of the FIFA World Cup 2022, the FIFA Women's World Cup 2023 and the FIFAe Nations Cup 2023. Apart from branding rights, the deal entails Calm subscriptions being offered to players, workers and volunteers at the aforementioned FIFA tournaments for free, with fans also being offered heavily discounted subscriptions.
VISA: The American financial services provider has been a global sponsor of FIFA and its Official Payment Technology Partner since 2007. VISA offers exclusive payment service for all FIFA-affiliated stores and events and also works with the governing body to create co-branded unique programmes for the fans.
Budweiser: The Anheuser-Busch InBev-brewed beer brand has been the official beer sponsor of the men's FIFA World Cup for over 35 years now. Apart from pouring rights at World Cup matches, the partnership also allows Anheuser-Busch InBev to promote its local brands in their respective regional markets. In June 2023, Anheuser-Busch InBev was confirmed as the official beer sponsor of the 2023 Women's World Cup as well as the 2026 men's World Cup.
Unilever: The London-headquartered British multinational consumer goods company signed a deal with FIFA in May 2023, making its personal care brands Rexona, Dove, Lifebuoy and Lux sponsors of the 2023 FIFA Women's World Cup. Set to run until 2027, the deal is also set to cover the FIFAe Finals and the men's FIFA World Cup of 2026, making this the first agreement that will see FIFA work with personal care brands across its women's, men's and esports events.
Apart from branding rights, the partnership also entails Unilever working with FIFA over its Women's Development Programme, which is "designed to provide opportunities for women and girls and supports the continued growth of women's football around the globe". Unilever is to provide "funding, human resources, and support for tailored development programmes" for the same. Unilever is also expected to deliver around 80,000 personal care gift packs at official FIFA events over the course of this partnership.
McDonald's: The Chicago-headquartered American fast-food giant has been a FIFA World Cup sponsor for over two decades. Throughout the quadrennial event, McDonald's branding appears most prominently on the uniforms of the child mascots who accompany the players as they walk out on the pitch before a game. In May 2023, McDonald's deal with FIFA was again renewed to cover the 2023 Women's World Cup and the 2026 men's World Cup, with McDonald's also gaining exclusive naming rights for the tournaments' Fair Play Trophy as well as having "access to tickets and hospitality opportunities, allowing the company to create unforgettable experiences for attendees".
Cisco: The American digital tech company was announced as the tournament's Official Supporter for the Asia-Pacific region as well as its Official Network Infrastructure Provider in April 2023. Apart from branding rights, the partnership entails Cisco providing "a secure and reliable network that connects the entire tournament ecosystem, from the venues and operations to the administration and media." Via its networking academy, Cisco is also set to offer local female students the chance to work with the networking equipment both before and after the tournament.
Frito-Lay: PepsiCo-owned Frito-Lay was announced as the 2023 WC's North American Regional Supporter and the Official USA Snack of the tournament in May 2023. The partnership entails digital activations and advertising opportunities on the world football's biggest stage and include the following Frito-Lay brands: Lay's, Doritos, Cheetos and Cracker Jill.