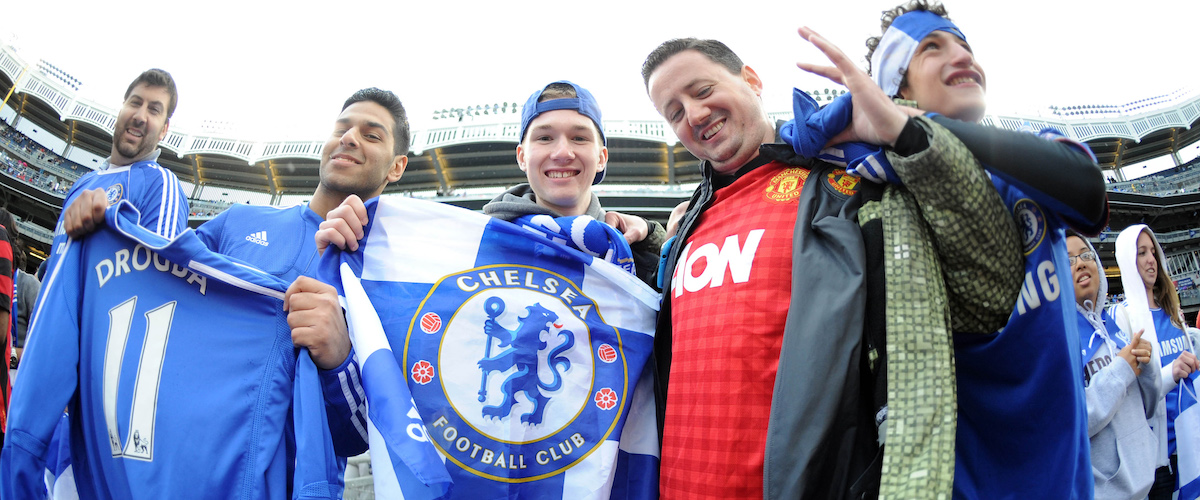 Soccer never stops. Welcome to another busy summer of soccer in America!
It's one of our favorite traditions, one that we really love. Nearly every year, different American cities will welcome some of the best soccer teams in the world. From Real Madrid facing Barcelona in another big edition of El Clásico (we see you, Texas!) to Manchester United — one of the most popular Premier League clubs in the U.S. — clashing against Borussia Dortmund in America's new favorite sports destination: Las Vegas.
Whether you are a hardcore fan or you just want to enjoy some of the best soccer players in the world, you won't want to miss the more than 20 matches across the country.
Everything kicks off on July 19 when the MLS All-Stars hosts Arsenal in D.C.'s state-of-the-art Audi Field. After a spectacular season that saw them fall to Manchester City in the last few weeks of the Premier League, the Gunners will hit the ninth-largest TV market in the United States and an area with some serious soccer passion — tickets sold out in less than five hours after being available to the general public!
On that same day, Sunderland — a historic English team that many will remember from Netflix's breathtaking docuseries Sunderland 'Til I Die — will play their second match on American soil when they face the second USL rival of their 2023 U.S. tour: New Mexico United at Albuquerque's Isotopes Park. The Black Cats, who were captained by American international Lynden Gooch in the Championship playoff games against Luton Town, will play their opening match on July 15 against San Antonio FC at Toyota Field. Their last stop will be in Cary, NC where they face North Carolina FC.
Chelsea's tour also kicks off on July 19 and also in North Carolina, a market where soccer has experienced an explosive rise in popularity in recent years. In 2022, Charlotte FC not only set a new MLS single-game attendance record in its home debut with 74,479 fans, they also had the second-highest attendance in the league.
Chapel Hill — just a 30 minute drive from Cary — will host the Blues when they face Welsh club and American TV sweethearts, Wrexham AFC. Even though Christian Pulisic has been linked with many different clubs in the last few weeks, many still expect to see him in America, especially when Chelsea visits Philadelphia — in Pulisic's home state — to play Brighton on July 22, as part of the Premier League Summer Series, a five city tour hitting Atlanta, D.C., New York, Orlando, and Philadelphia. The Premier League's first summer tour on U.S. soil will feature six PL clubs and some of the leagues best players. In addition to Chelsea and Brighton, Aston Villa (hola World Cup champion, "Dibu" Martínez!), Brentford, Fulham (with USMNT duo Antonee Robinson and Tim Ream), and Newcastle – will hit the East Coast in late July.
July 22 is certainly a date to keep in mind since it will be a day of top-class soccer in America, from coast to coast. Just 100 miles away from Lincoln Financial Field, Manchester United and Arsenal will meet for the first time in the United States at Metlife Stadium, a venue that has hosted pretty big soccer matches in the last few years, including a Madrid Derby in which Atlético Madrid thrashed Real Madrid 7-3.
Twelve years have passed since the last time Manchester United visited New York/New Jersey, America's leading TV market. This match will mark the start of their two-week U.S. tour where they will also face Wrexham in San Diego (July 25, sold out), Spanish giants Real Madrid in Houston (July 26) and Borussia Dortmund in Las Vegas (July 30), "bringing the most famous football club on the planet to the entertainment capital of the world."
In just the last few years, Las Vegas has become one of the most coveted sports destinations. For evidence, look no further than the NHL, WNBA, NFL, and a potential MLB franchise with the Athletics leaving Oakland (not to mention that the city will host its first Super Bowl next year and the Final Four in 2028). Now it's time for fans to enjoy top-class soccer on the Strip when United takes on Gio Reyna's Borussia Dortmund.
But going back to July 22 (don't forget to mark your calendars!), on the west coast, the Bay Area will welcome two clubs with huge American fan bases in Barcelona and Juventus. The two historic sides will meet at Levi's Stadium in Santa Clara as part of the Soccer Champions Tour, a competition in which six teams will play eight matches in 10 days. That's how we like our soccer served!
As part of this tour, Real Madrid and Barcelona will play another edition of El Clásico in the U.S. This will be the third time that Blancos and Culés meet on American soil, having already faced off in Miami in 2017 and in Las Vegas in 2022. This time, the old rivals will clash at AT&T Stadium in Arlington and the 80,000 capacity venue is expected to be sold out, even though it has been considered by many the most expensive soccer game in history with an average price tag of $504.
The action continues in August when Chelsea and Borussia Dortmund visit Chicago to play in a fan-favorite stadium: Soldier Field. Yes, Pulisic and Gio can meet one more time in America and in such an iconic venue. Fingers crossed.
Last but not least, LaLiga will have a double-header at beautiful Oracle Park in San Francisco, California. Atlético Madrid will face Sevilla and Real Sociedad will take on Real Betis on August 5th.
There's also quite a few games that haven't been listed here but that will definitely create a scheduling squeeze for us fans of the beautiful game in the U.S.
But that's a good problem to have, right? Let the games begin!
DATE
TEAMS / TIME (ET)
LOCATION
July 8
Millonarios vs Atletico Nacional — 8:30 p.m.
Ft. Lauderdale, Fl.
July 15
San Antonio vs Sunderland — 9 p.m.
San Antonio
July 19
Chelsea vs Wrexham AFC — 7 p.m.
MLS All-Star Team vs Arsenal — 8:30 p.m.
New Mexico United vs Sunderland — 9 p.m.
Chapel Hill, N.C.
Washington, D.C.
Albuquerque, N.M.
July 21
North Carolina FC vs Sunderland — 7 p.m.
Cary, N.C.
July 22
LA Galaxy II vs Wrexham AFC — 4:30 p.m.
Manchester United vs Arsenal — 5 p.m.
Chelsea vs Brighton — 7 p.m.
Barcelona vs Juventus — TBD
Carson, Calif.
East Rutherford, N.J.
Philadelphia
Santa Clara, Calif.
July 23
Fulham vs Brentford — 4 p.m.
Newcastle vs Aston Villa — 7 p.m.
Real Madrid vs AC Milan — TBD
Philadelphia
Philadelphia
Pasadena, Calif.
July 25
Manchester United Academy vs Wrexham AFC — 4:30 p.m.
San Diego, Calif.
July 26
Brentford vs Brighton — 5:30 p.m.
Fulham vs Aston Villa — 7 p.m.
Crystal Palace vs Millonarios — 8 p.m.
Chelsea vs Newcastle — 8:15 p.m.
Real Madrid vs Manchester United — TBD
Arsenal vs Barcelona — TBD
Atlanta
Orlando
Chicago
Atlanta
Houston
Inglewood, Calif.
July 27
San Diego Loyal vs Borussia Dortmund — 4:30 p.m.
Juventus vs AC Milan — TBD
San Diego
Carson, Calif.
July 28
Brighton vs Newcastle — 7:30 p.m.
Philadelphia Union II vs Wrexham — 7:30 p.m.
Harrison, N.J.
Chester, Pa.
July 29
Real Madrid vs Barcelona — TBD
Arlington, Texas
July 30
Aston Villa vs Brentford — 12 p.m.
Chelsea vs Fulham — 2:45 p.m.
Crystal Palace vs Sevilla — 7 p.m.
Manchester United vs Borussia Dortmund — 8 p.m.
Landover, Md.
Landover, Md.
Detroit
Las Vegas
Aug. 1
AC Milan vs Barcelona — 8:30 p.m.
Las Vegas
Aug. 2
Chelsea vs Borussia Dortmund — 8:30 p.m.
Juventus vs Real Madrid — TBD
Chicago
Orlando
Aug. 3
Atletico Madrid vs Sevilla — 4 p.m.
Real Sociedad vs Real Betis — 7 p.m.
San Francisco