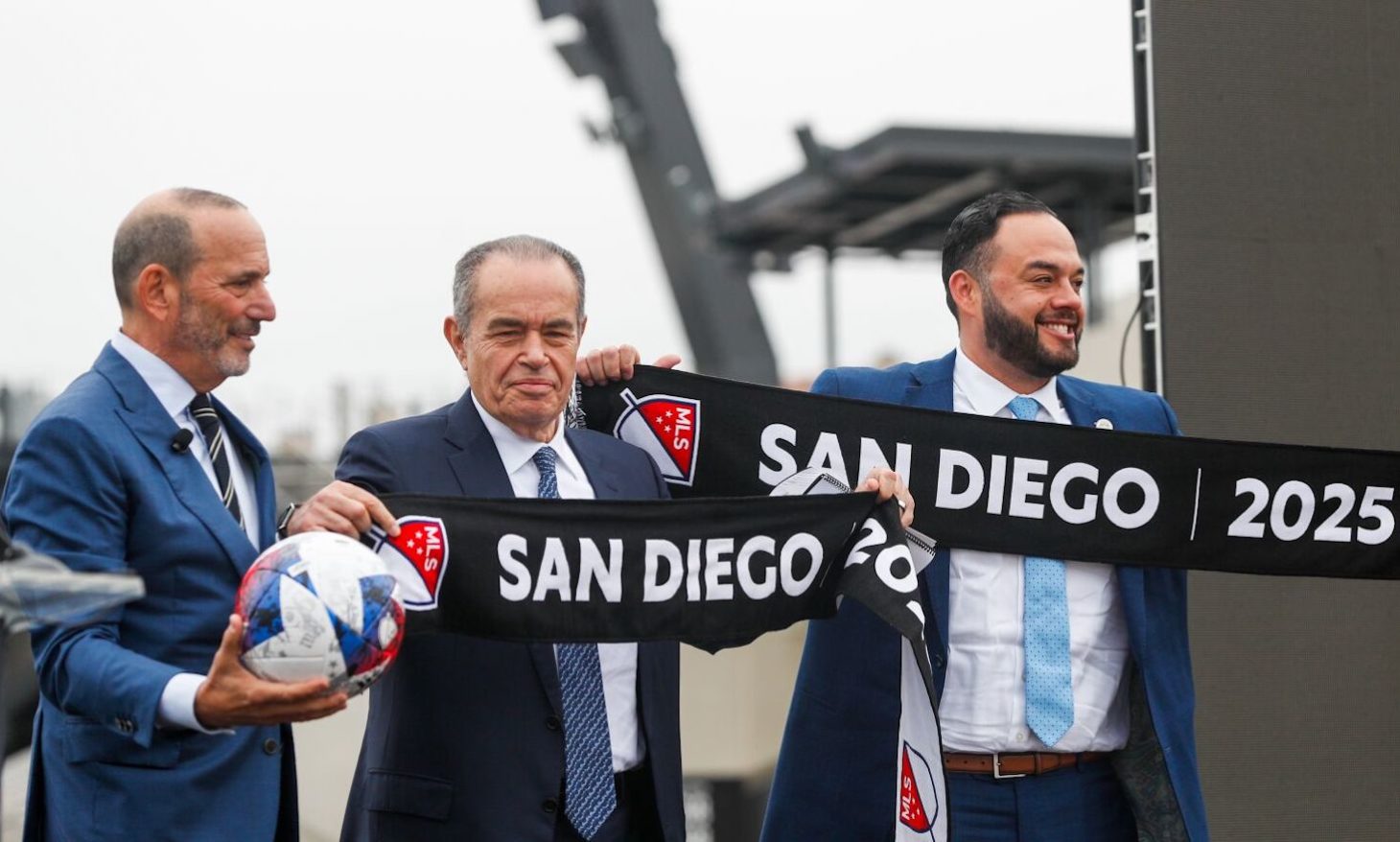 San Diego took a winding road toward challenging to become Southern California's new soccer central headquarters, and potentially one of North America's strongest connectors between American and Mexican soccer — for both the men and women's game at all age levels.
Following last Thursday's official awarding of Major League Soccer's 30th franchise — through expansion thanks to an ownership group that includes Egyptian billionaire Mohamed Mansour, the Sycuan Band of the Kumeyaay Nation (now the first Native American tribe to co-own a U.S. professional soccer team) and San Diego Padres star Manny Machado — the California-Mexico border town has completed a Yahtzee of the beautiful game:
Liga MX's Club Tijuana Xoloitzcuintles kicked off in 2007; earning promotion to Liga MX in 2011
The USL's San Diego Loyal kicked off in 2020
The NWSL's San Diego Wave FC kicked off in 2022
San Diego and Snapdragon Stadium — home to Wave FC, future home to MLS, and past home of various international and club friendlies — was named as one of the 15 host venues for the 2023 Concacaf Gold Cup
Major League Soccer's yet-to-be-branded expansion club will kick off in 2025
Sunshine, surf, and soccer
Everything seems to be happening in SoCal these days. If you add in Xolos from Liga MX and Los Angeles along with San Diego's recent explosion of excitement — the West Coast presents a strong argument as the Best Coast.
In the women's game, between Wave FC and Angel City FC, SoCal is a who's who of the game's most marketable players and personalities — which directly translates to the numbers those two clubs are generating. Through Week 8 of the 2023 NWSL season, San Diego leads the league in average attendance (21,360 per game, 1.45% increase vs. 2022) and Angel City ranks second (19,731).
The next closest club is the reigning champion Portland Thorns after a drop of more than 3,000 fans per match. You can (probably) thank Alex Morgan, Abby Dahlkemper, Christen Press, Sarah Gorden, Alyssa Thompson, Simone Charley, Julie Ertz … and that's just on-the field.
On the men's side, it's equally as stacked thanks to reigning MLS champion LAFC, the record five-time MLS champion LA Galaxy, back-to-back USL playoff quarterfinalist San Diego Loyal, and 2-time Liga MX season champion — all that success has been written in the stars thanks to Landon Donovan, Carlos Vela, Javier "Chicharito" Hernandez, Zlatan, David Beckham, DeAndre Yedlin, and a solar system of others.
To say the name-marketability is already reverberating across the world from the 118 miles that separate Los Angeles, San Diego and Tijuana is not saying enough.
From failure to success in 5 years
Back in the fall of 2018, San Diego was entrenched in a battle with a handful of other American cities for MLS expansion with success hanging by a thread as voters decided the future through a pair of measures that could have seen a unique, soccer-specific stadium built.
Ultimately that bid failed, and three new MLS expansion teams were announced in 2019 (Austin, Charlotte, Nashville) and one other bid died (Sacramento).
Now back in 2023 and planning to launch in 2025 — San Diego is a proven market for fans, big-name players, and overall marketability (who doesn't like a city that sees the sun shining 73% of the year?) that's seen soccer fans across all spectrums embrace it.
Women's soccer — Wave FC has it all for the NWSL; Club Tijuana Femenil is just across the border as well.
Men's soccer — The Loyal have been in San Diego since 2020, and the club's ownership (and fans) have announced their intentions to stick around no matter what happens with the MLS expansion club from 2025 and beyond.
International soccer — the aforementioned Concacaf Gold Cup is coming to town this summer; and the Mexican Men's National Team will face Cameroon in an international friendly on June 10.
Club friendlies — The 35,000-seat stadium hosted Club Tijuana Xoloitzcuintles and Club América back in March; and is set to host Manchester United and Wrexham AFC (most notable due to the club co-owners Ryan Reynolds and Rob McElhenney) later this summer.
Growing from the grassroots
One of the most overlooked characteristics for a city to become a Soccer City™ is the depth of its grassroots. The youth game and development, the supporters and if they can crank up the volume, and the vibes in and around the stadium.
The new MLS group includes a few convincing cases that could help the club combust into a truly unique situation. From a youth and development standpoint — the inclusion of Right to Dream founder Tom Vernon and principal owner of the Right to Dream organization Mohamed Mansour means the youth game will be impossible to ignore.
RTD has developed several world-class players who have played at the highest levels in MLS, the UEFA Champions League and FIFA World Cup — including seven graduates that featured in the 2022 FIFA World Cup. The global academy network also operates an elite performance and development environment at top-tier Danish club FC Nordsjaelland.
Beyond youth soccer, the new club represents an entryway for new fans thanks to the diversity of its ownership group. As an essential partner with Mansour and RTD, the Sycuan Tribe brings a distinctive community connection and understanding with the tribe residing in and around San Diego for more than 12,000 years. The Sycuan Tribe is only the second Native American tribe to have an ownership stake in a major league sports franchise. Representation matters.
To a lesser but similar extent, San Diego Padres superstar Manny Machado adds a new dynamic as well. Anecdotally, Machado's inclusion in the expansion team's ownership group provided the first time I've ever seen headlines about MLS published across outlets in Machado's Dominican Republic (he was born in Miami, but represents the Dominican Republic competitively).
In 2019, Machado signed a 10-year contract with the Padres — essentially promising that he's there to stay. His role with MLS will hopefully add more baseball and general sports fans into the mix.